Welcome to Ryuuou no Oshigoto! Wiki
A wiki dedicated to everything about the series written by Shirow Shiratori and illustrated by Shirabi.
We currently have 3,838 edits and 65 articles. Please help this wiki by expanding or editing it. Thank you.
This wiki is likely to contain unmarked spoilers from the series! Read at your own risk!
A teenage boy named Yaichi Kuzuryuu who happens to be the strongest shogi player in history, holding the top title of "Ryuo" (Dragon King). One fateful day, a shogi-loving elementary student, Ai Hinatsuru, appears before him claiming that he promised to be her master. However, Yaichi couldn't recalled about the promise with a girl in the final match when he get the title. Playing along with her request, Yaichi asked her to pass first his test before accepting her as a disciple. At first, Yaichi doubted her ability. However after they did a trial match, he found out that Ai has a hidden talent to play shogi.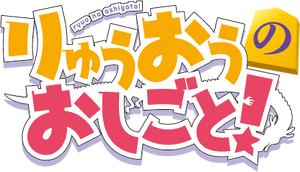 The Ryuo's Work is Never Done! (りゅうおうのおしごと! Ryūō no Oshigoto!) is a Japanese light novel series written by Shirow Shiratori and illustrated by Shirabi. The first volume was published in 2015, and a total of five volumes have been released by SB Creative under the GA Bunko label. A manga adaptation with illustrations by Kogetaokoge has been published in Square Enix's seinen manga magazine Young Gangan in 2015 and has produced 4 volumes. An anime television series adaptation by Project No.9 is premiered on January 8, 2018.
For anyone who wishes to get involve, Feel free to help expand this wikia. However, please remember this rules:
Help fix the grammar if you do not think it make sense.
Add appropriate categories to any page you might be making.
For people who wants to upload images, please save them in .png or .jpg format.
For any sign-in wikia contributors who wants to upload images, please remember to specify licensing.
Obtain permission before using other people's content.
Do not crop character screenshots.
Allow your writing to be presentable for the public.
Do not make pointless articles. If you see one, put the Request for Deletion tag on.
For fanart pictures, it is only allowed on your User page, not on articles.
---
To write a new article, just enter the title in the box below.
<createbox> width=30 break=no buttonlabel=Create new article </createbox>
Want to affiliate with us?
If you would like to become an affiliated site,
please contact an administrator.